BOOK ONE OR MORE UNITS OR THE WHOLE LODGE FOR A GROUP GETAWAY
BOOK THE WHOLE LODGE (exclusive use of the lodge for up to 25 overnight guests (sharing)


Includes accommodation and exclusive use of all venues pub/patio/pool area, dining/function room and hall
Catering & cleaning will be quoted separately according to each groups' specific requirements
PLEASE NOTE: Day visitors for functions to be discussed with management priior to booking. We regret ... no bachelor groups
FULL WEEKEND RATE: (Friday and Saturday night): R 18 950.00
ONE NIGHT WEEKEND RATE: (Friday or Saturday night): R 12 450.00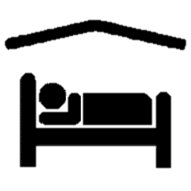 OVERNIGHT ACCOMMODATION
DESCRIPTION
1 GUEST
2 GUESTS
3 GUESTS
4 GUESTS
5th GUEST
6th GUEST
TWO BEDROOM UNITS:
Rondawels (units 1 & 2) sleeps 4

Book 1 of the 2 rondawels (2nd rondawel not booked by other guests)

R 990.00

R 990.00

n/a

n/a

n/a

n/a

Book both rondawels

n/a

R 1590.00
R 1590.00
R 1590.00

n/a

n/a

[Unit 2: 2 ¾ beds & Unit 1: 2 single beds, 1 fridge, coffee/tea station]

[Separate outside bathroom -

shower/WC/basin

]

Typical Kruger "look & feel. Spacious private enclosed patio with private braai facility

Family unit 4 sleeps 4 in 2 bedrooms

R 990.00

R 990.00

R 1 290.00

R 1 590.00

n/a

n/a

[Room 1: 2 ¾ beds, 2 chairs, en suite bathroom]

[Room 2: 1 Queen bed & 1 ¾ bed, work desk & 2 chairs, fridge, coffee/tea station]

[en suite bathroom - shower/WC/basin]

Undercover sitting area outside the unit - commual braai facility

Family unit 6 sleeps 6 in 2 bedrooms

R 990.00

R 990.00

R 1 290.00

R 1 590.00

R 1 790.00

R 1 990.00

[Room 1: 2 ¾ & 2 single beds, 2 seater couch & 2 chairs, en suite bathroom]

[Room 2: 1 double & 1 ¾ bed, dressing table, fridge, coffee/tea station]

[bath with overhead shower head/WC/basin]

Undercover sitting area outside the unit - commual braai facility

ONE BEDROOM UNITS:

Room 7

sleeps 2 in 1 room

R 850.00

R 850.00

n/a

n/a

n/a

n/a

[1 Queen & 1 single bed, comfy lounge area, dressing table, fridge, coffee/tea station]

[en suite bathroom - shower/WC/basin]

Undercover sitting area outside the unit - commual braai facility

Unit 8

sleeps 2 in 1 room

R 850.00

R 850.00

n/a

n/a

n/a

n/a

[1 Queen & 1 ¾ bed, comfy lounge area, dressing table, fridge, coffee/tea station]

[en suite bathroom - shower/WC/basin]

Undercover sitting area outside the unit - commual braai facility

Thatched unit 10 sleeps 2 in 1 room

R 790.00

R 790.00

n/a

n/a

n/a

n/a

[1 Queen bed, couch, en suite bathroom - fridge, dressing table, coffee/tea station]

[en suite bathroom - shower/WC/basin]

Spacious enclosed patio with gas braai facility shared with unit 11

Thatched unit 11 sleeps 2 in 1 room

R 790.00

R 790.00

n/a

n/a

n/a

n/a

[1 Queen bed, 2 wingback chairs, fridge, dressing table, coffee/tea station]

[en suite bathroom - shower/WC/basin]

Spacious enclosed patio with gas braai facility shared with unit 10
MEALS

CATERING
Breakfast: R 75.00/person
Dinner: R 95.00 - R 155.00/person
Spit braai: Price upon request
Dinner for 1st night stay to be pre-arranged with management by latest 12:00 on the day of arrival.
A communal kitchen as well as braai facilities are available for guests who wish not to make use of our catering service.
Braai sides (Pap, sheba and salads) can be ordered from our kitchen.
Please bring your own pot/pan, cooking utensils, cutlery and crockery, drinks, cooler box with ice and wood if you want to braai. .
Fridge, kettle, coffee mugs and cold drink glasses in each unit.